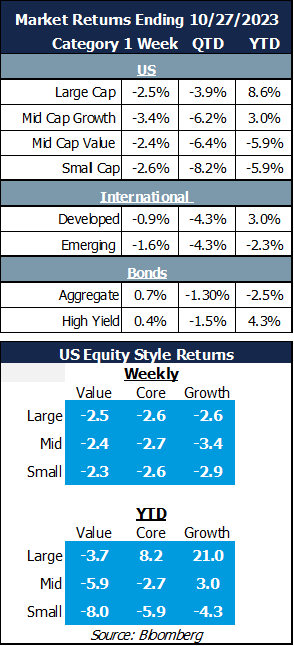 Key Events: Profit margins on the decline
While the US continues to produce strong economic and corporate earnings growth, profit margins continue their decline, contracting for the seventh straight quarter, and corporate guidance trends are worsening.[1]
The Middle East tension continues as Israel continues its ground invasion of Gaza.
The GOP finally elected a Speaker of the House.
Market Review: Geopolitical tensions lead to volatility
Stocks declined further; the S&P 500 entered a correction, down 10% from the summer high, with small and international stocks experiencing greater losses.
The bond market continued to anticipate and end to the Fed's tightening campaign, leading to fixed income gains.
Outlook: Crosscurrents lead to uncertainty
Earnings and economic data continue to be strong, but clouds are on the horizon. Uncertainty – about recession, corporate earnings, and geopolitics – have led to market declines. It is important to put the declines in context. As the below chart illustrates, the S&P 500 is so far experiencing a smaller than average decline.
While we are looking for opportunities to manage risk during volatile times, OneAscent continues to be focused on diversification, maintaining exposure to areas of the stock and bond markets where valuations give us a greater margin of safety.
Drawdowns – a normal part of the year[2]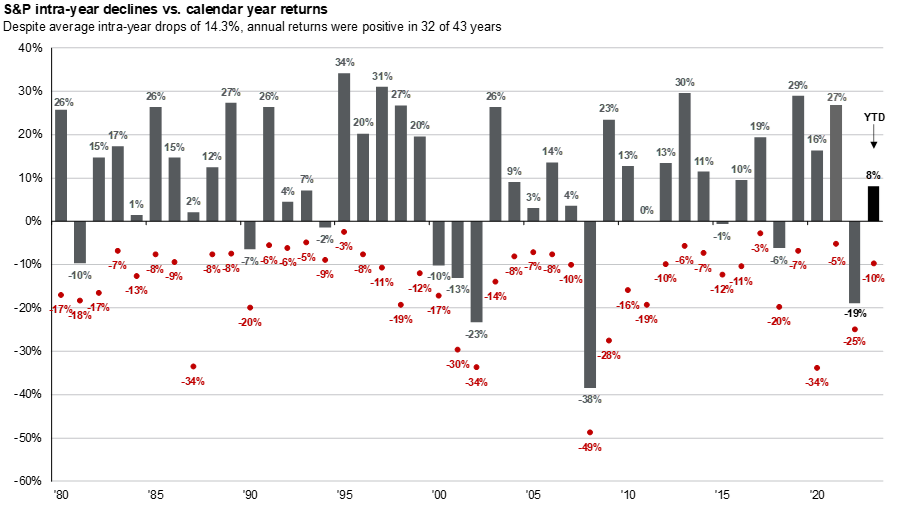 Navigator Outlook: October 2023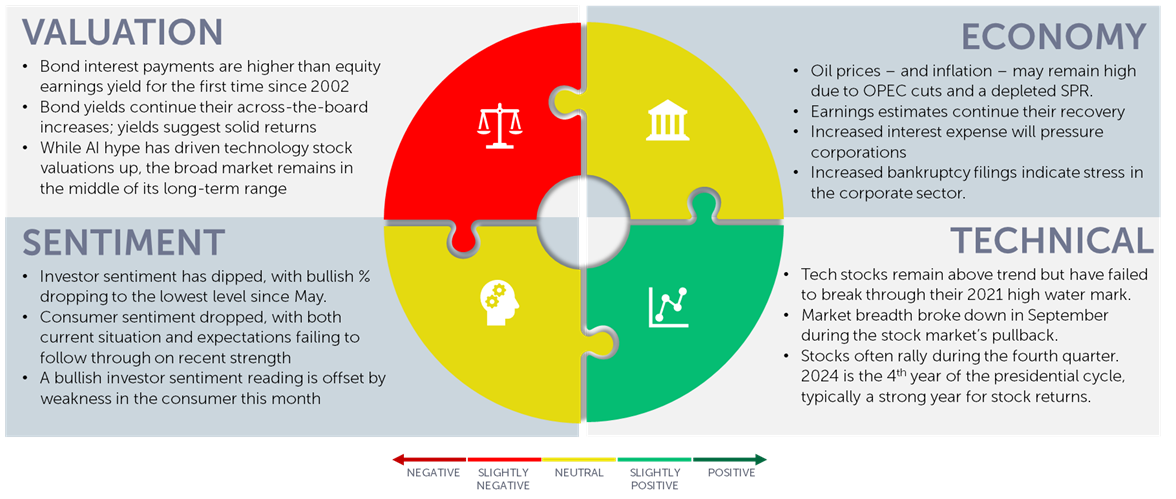 This material is intended to be educational in nature,[4] and not as a recommendation of any particular strategy, approach, product or concept for any particular advisor or client. These materials are not intended as any form of substitute for individualized investment advice. The discussion is general in nature, and therefore not intended to recommend or endorse any asset class, security, or technical aspect of any security for the purpose of allowing a reader to use the approach on their own. Before participating in any investment program or making any investment, clients as well as all other readers are encouraged to consult with their own professional advisers, including investment advisers and tax advisors. OneAscent can assist in determining a suitable investment approach for a given individual, which may or may not closely resemble the strategies outlined herein.
[1] Source: FactSet – year over year profit margins are declining for the 7th straight quarter. So far, 28 companies have issued negative forward EPS guidance and 14 have issued positive guidance.
[2] Source: JPMorgan Guide to the Markets
[3] Source: Market Returns reference the following indices: Large Cap – S&P 500, Mid Cap Growth – Russell Midcap growth, Mid Cap Value – Russell Midcap Value, Small Cap – Russell 2000, Developed – MSCI EAFE, Emerging – MSCI Emerging Markets, Aggretate – Bloomberg US Aggregate, High Yield – Bloomberg High Yield
OAI00519